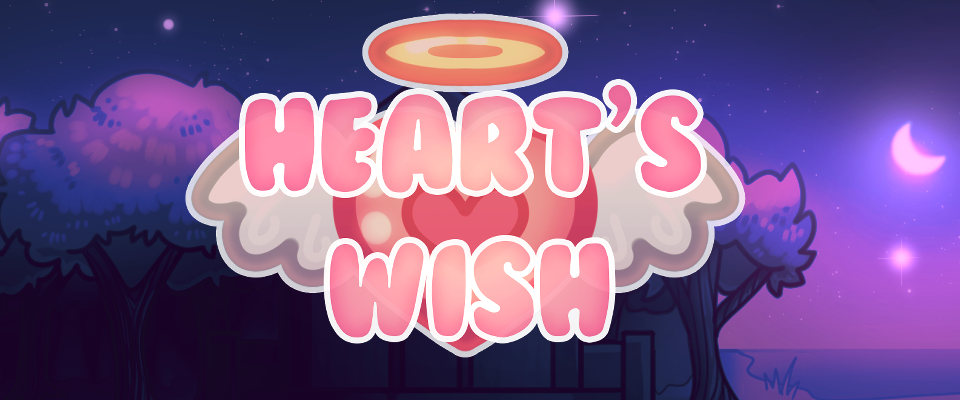 Heart's Wish
Help our furry friends find out what their heart's deepest wish is!
Left click on vegetables to plant them, then drag them to animals to feed them.
Right click to use magnifying glass.

The tutorial lasts for a few levels, the game's proper puzzle section starts at around level 10. Have fun!
Credits
Suikou - Code
spacenerdy - Artist
Maple Games (larsbet) - Music and SFX
We hope you enjoy the game just as much as we enjoyed creating it, and we'd love feedback if you have any! Happy Game Jamming!
| | |
| --- | --- |
| Status | Released |
| Platforms | HTML5 |
| Rating | |
| Authors | Kaibaka, larsbet, spacenerdy |
| Genre | Puzzle |
| Tags | 2D, Animals, Cute, farm, Relaxing |
| Average session | A few minutes |
| Languages | Afar, Abkhaz, Avestan, Afrikaans, Akan, Amharic, Aragonese, Arabic, Assamese, Avaric, Aymara, Azerbaijani, Bashkir, Belarusian, Bulgarian, Bihari, Bislama, Bambara, Bengali, Tibetan Standard Tibetan Central, Breton, Bosnian, Catalan; Valencian, Chechen, Chamorro, Corsican, Cree, Czech, Old Church Slavonic, Chuvash, Welsh, Danish, German, Divehi; Dhivehi; Maldivian;, Ewe, Greek Modern, English, Esperanto, Spanish; Castilian, Spanish; Latin America, Estonian, Basque, Persian, Fula; Fulah; Pulaar; Pular, Finnish, Fijian, Faroese, French, Western Frisian, Irish, Scottish Gaelic; Gaelic, Galician, Guaraní, Gujarati, Manx, Hausa, Hebrew (modern), Hindi, Hiri Motu, Croatian, Haitian; Haitian Creole, Hungarian, Armenian, Herero, Interlingua, Indonesian, Interlingue, Igbo, Nuosu, Inupiaq, Ido, Icelandic, Italian, Inuktitut, Japanese, Javanese, Georgian, Kongo, Kikuyu Gikuyu, Kwanyama Kuanyama, Kazakh, Kalaallisut Greenlandic, Khmer, Kannada, Korean, Kanuri, Kashmiri, Kurdish, Komi, Cornish, Kirghiz Kyrgyz, Latin, Luxembourgish Letzeburgesch, Luganda, Limburgish Limburgan Limburger, Lingala, Lao, Lithuanian, Luba-Katanga, Latvian, Malagasy, Marshallese, Māori, Macedonian, Malayalam, Mongolian, Marathi (Marāṭhī), Malay, Maltese, Burmese, Nauru, Norwegian Bokmål, North Ndebele, Nepali, Ndonga, Dutch, Norwegian Nynorsk, Norwegian, South Ndebele, Navajo Navaho, Chichewa; Chewa; Nyanja, Occitan, Ojibwe Ojibwa, Oromo, Oriya, Ossetian Ossetic, Panjabi Punjabi, Pāli, Polish, Pashto Pushto, Portuguese (Portugal), Portuguese (Brazil), Quechua, Romansh, Kirundi, Romanian Moldavian Moldovan, Russian, Kinyarwanda, Sanskrit (Saṁskṛta), Sardinian, Sindhi, Northern Sami, Sango, Sinhala Sinhalese, Slovak, Slovene, Samoan, Shona, Somali, Albanian, Serbian, Swati, Southern Sotho, Sundanese, Swedish, Swahili, Tamil, Telugu, Tajik, Thai, Tigrinya, Turkmen, Tagalog, Tswana, Tonga (Tonga Islands), Turkish, Tsonga, Tatar, Twi, Tahitian, Uighur Uyghur, Ukrainian, Urdu, Uzbek, Venda, Vietnamese, Volapük, Walloon, Wolof, Xhosa, Yiddish, Yoruba, Zhuang Chuang, Chinese, Chinese (Simplified), Chinese (Traditional) |
| Inputs | Mouse |
| Accessibility | Interactive tutorial, Textless |
Comments
Log in with itch.io to leave a comment.
It was hard from the middle stage.
Wow! Thank you for playing through the game and posting it to youtube!! I loved watching how another person tackled the levels!! This is amazing, thank you again!
Yes, definitely does get harder as the game goes on!! Haha. You did well!!
Wow so amazing that we actually have a playthrough! :D
Thanks, and I'm glad that you've liked it...
Super cute graphics. Also, I really appreciate the animated mouse pointer to teach the player. Really great!
Our vision with this game was to be playable without having a single word in-game (except for the logo/numbers), that's why...

And thanks! :D
I love the graphics They are so cute! And i love the music!!
a bit laggy but VERY CUTE great job!
My bad... Gonna update it for better performance.
I'm sorry if I made you feel bad about it! besided that honestly it worked well like I never had any issues feeding the wrong animal or anything else